Posted on May 16, 2019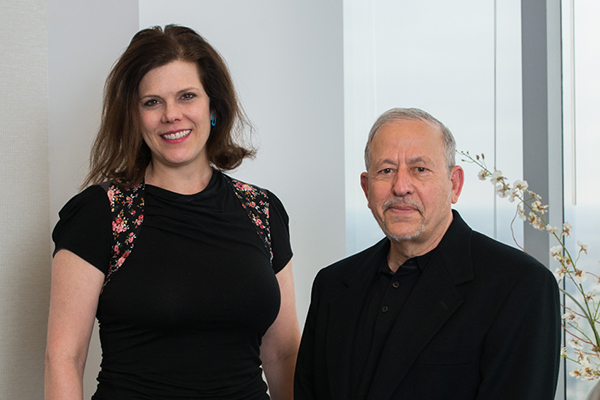 This article first appeared on the University of Chicago's Give to Medicine: Donor Stories
---
Since 1981, the Alvin H. Baum Family Fund has donated more than $1.9 million to the University of Chicago, with a focus on accelerating research that strives to find new solutions to society's most complex challenges.
In July 2017, one of those challenges hit close to home when Erika Cornelisen, executive director of the fund, was diagnosed with metastatic (stage 4) breast cancer—cancer that has spread to another part of the body.
Metastatic breast cancer affects nearly 60,000 women (and men) each year in the United States, and the incidence is rising among women under age 40. Despite this, only 2 to 5 percent of funding for breast cancer research is dedicated to stage 4.
Although Cornelisen, 43, was initially shocked and devastated by her diagnosis, she was grateful to have a role model—her father, who just turned 80 and was diagnosed with stage 4 lymphoma at age 39.
"My father was given six months to live," said Cornelisen. "And it is because of science that he is still here today."
The road to a diagnosis wasn't easy for Cornelisen, however. She saw a number of doctors who attributed her symptoms to other causes, such as breastfeeding, being a working mother, or even her children's colds. It wasn't until she came to the University of Chicago Medicine that she found answers and a physician who gave her new hope: Olufunmilayo I. Olopade, MD, a renowned expert in cancer risk assessment and individualized treatment for the most aggressive forms of breast cancer.
"I am so fortunate to be aligned with such a forward-thinking doctor," said Cornelisen. "She was able to reveal information about my cancer that other places hadn't even come close to considering."
Olopade is working with a talented team of investigators in the Specialized Program of Research Excellence in Breast Cancer to develop a new model that will enable them to study aggressive breast cancers and the conditions that affect their growth.
"This model will allow us to rapidly test potential therapies for safety and effectiveness, and to see which are most likely to succeed among different patients," said Olopade.
Cornelisen shared the need for funding metastatic breast cancer research with her colleague, Joel Friedman, president of the Alvin H. Baum Family Fund. After thoroughly reviewing Olopade's work, including touring her laboratory and meeting with staff and trainees on the team, Friedman determined it was the right decision to invest in Olopade's research.
"We are at a critical crossroads where we can help bring Dr. Olopade and her team closer to the next big breakthrough," said Friedman.
The fund's $200,000 gift will accelerate Olopade's efforts to build a team of experts in Chicago to improve understanding of the biology of aggressive breast cancers, more accurately identify those at greatest risk, and develop more effective treatments.
"We recognize that there are going to be risks involved in this work," said Cornelisen, "but we accept that because by taking risks, we can propel promising research and lay the groundwork necessary for Olopade and her team to command significant federal funding."
In the future, Olopade hopes to use the new model as part of patients' treatment plans.
"This research will allow patients like me to one day have their own personalized treatments, which could spare them from a number of serious side effects," said Cornelisen.
The Baum Fund's contribution ultimately puts us closer to reaching a point where even the most aggressive cancers can be successfully treated and managed like other chronic conditions.
The next step for Olopade and her team is to expand this project through collaborations with researchers and physicians across Chicagoland to gather more information from a diverse array of patients.
Erika and Joel hope that others will join them in supporting this important work.
"We want to see all of our Chicago institutions and philanthropists come together with all of their brainpower because we see stage 4 as a wicked problem, and mitigating such problems demands targeted resources, cross-institutional expertise, and collaborative perseverance," said Cornelisen.
---
Learn more about supporting breast cancer research at University of Chicago.