Posted on June 11, 2019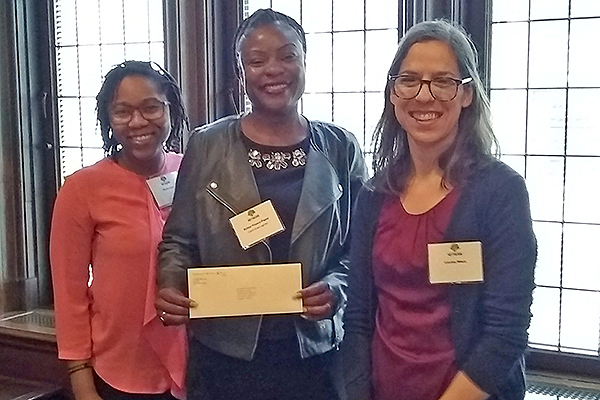 The Alvin H. Baum Family Fund is pleased to announce the winners of its inaugural Network Philanthropy Initiative. This initiative was the first project of the Baum Fund Network, an ongoing program that connects former Baum Scholarship recipients and Baum Interns to each other and the work of the Fund. The Philanthropy Initiative invited Network members to nominate their favorite nonprofit for a grant. The Baum Fund is proud to announce the following recipients of the first Philanthropy Initiative grants: a grant of $5,000 was awarded to Chicago Community Bond Fund; grants of $2,500 were awarded to Farmworker and Landscaper Advocacy Project (FLAP) and West Side Justice Center; and grants of $1,000 were awarded to Cabrini Green Legal Aid, Chicago Lawyers Committee for Civil Rights Under Law, First Defense Legal Aid, and Storycatchers Theater.
These agencies, and the Network members who nominated them, were celebrated at a Philanthropy Breakfast on May 22, 2019. The morning's guest speaker was Nicole Robinson, Vice President of Community Impact at Greater Chicago Food Depository and founding member of Chicago's first ever South Side Giving Circle, which is focused on reducing inequities faced by black women and girls. Nicole told the story of the giving circle's creation and how it busted open traditional ideas of philanthropy. "We make assumptions about who wants to give, or who can give," she said, in encouraging breakfast attendees to think about equity in giving. "This is not a new face of philanthropy. It's always been there, it's just been marginalized, not seen, and not acknowledged."
The Baum Fund acknowledges the important work of the Philanthropy Initiative grantees, and thanks the following Network members who nominated these outstanding agencies: Raul Aguilar, Antoinette Bolz, Daissy Dominguez, Michael Drake, Jeremy Esparza, Bryan Higgins, Oluchi Ifebi, Catrina Miksis, Charles Murphy, Diane O'Connell, Joseph O'Shei, Michael Podgurski, Veronica Shaheen, Alexandria Santistevan, and Hannah Weinberger-Beder.
Pictured below, representatives from each grantee receive their award from a member of the Baum Fund Network:
Nicole Robinson, Greater Chicago Food Depository
Community Bond Fund
West Side Justice Center
Farmworker and Landscaper Advocacy Project
Storycatchers Theater
Chicago Lawyers Comm. for Civil Rights Under Law
Cabrini Green Legal Aid
First Defense Legal Aid